In the midst of Singapore's electric vehicle (EV) evolution, understanding the differences between various EV charging options is pivotal for both current EV users and prospective adopters. In this article, we'll delve into two primary categories of EV charging stations allowed in Singapore: Alternating Current (AC) chargers – encompassing Level 1 and Level 2, and Direct Current (DC) fast charging stations, commonly referred to as Level 3 chargers. We'll explore their charging speeds and help you discern which level suits different situations within Singapore's unique context.
Using a standard household 120-volt outlet, commonly found in homes, level 1 charging is gradual, offering approximately 2-5 miles of range per hour. This charging speed is suitable for scenarios where extended charging periods are feasible, such as overnight charging at home.
Top EV charging station models in Singapore for Level 1:
QuickCharge's Artemis is designed to power up your electric vehicle efficiently, conveniently and economically. It is one of Singapore's most affordable EV charger.
Features:
Compatible with all EVs
Easy-to-use QuickCharge.sg app for monitoring charge usage
RFID, Bluetooth or QR Code activated
Complimentary 2-year warranty
Autel's home MaxiCharger has been designed to give electric vehicles a powerful smart charger. It is perfect for daily use at home and is easy to install with multiple functions found on the Autel app.
Features:
Compatible with all EV and Hybrid Plug-in Vehicles
Autel Charge app enables remote start, stop, monitoring and scheduling
Bluetooth, Wi-Fi, Ethernet, CAN. RS485 (for energy meter connection)
3 years limited warranty
The EVAC-9i (NA) from EVESCO is an intelligent 9.6kW 40A EV charging station that provides AC power. The sleek and innovative level 2 charging station has the most wanted features and functions.
Features:
Compatible with all battery electric vehicles and plug-in hybrids
Open Charge Point Protocol (OCPP) 1.6 support
User-friendly with RFID
Ethernet, 4G and Wi-Fi network connections
Requiring a dedicated 240-volt charging unit, akin to those used for appliances like electric dryers, Level 2 chargers provide a notable speed boost, delivering around 10-30 miles of range per hour. This level is versatile, applicable in various settings from residential homes to workplace installations, catering to a range of charging needs.
Top EV charging station models in Singapore for Level 2: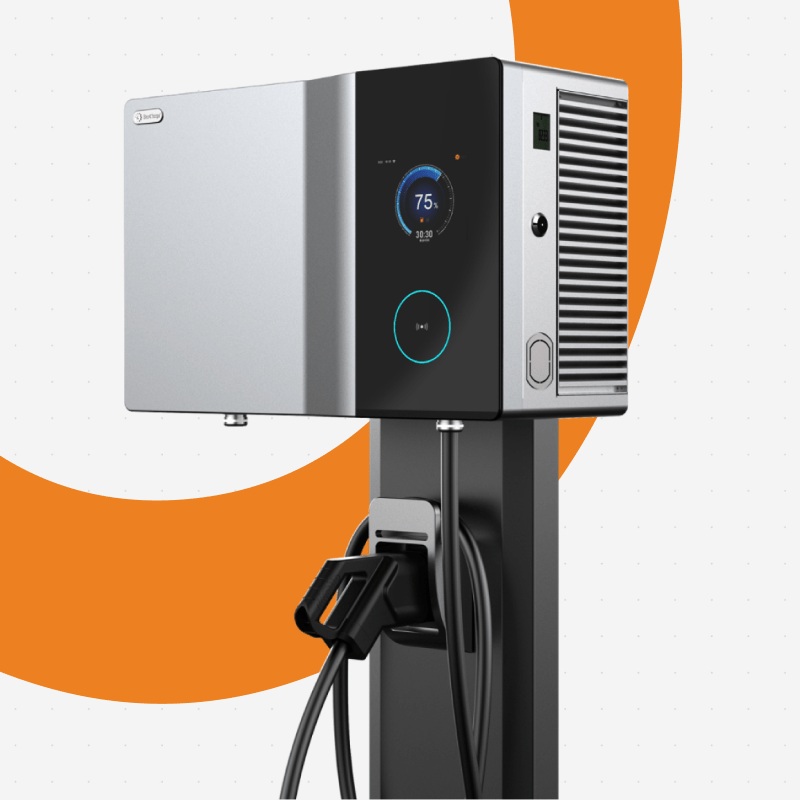 QuickCharge's Venus 30 is a modern and stylish design for private and semi-public EV charging. It is one of the most popular choice for fast charging.
Features:
Compatible with all EVs with CCS2 connector
Suitable for indoor/outdoor installation
RFID or QR Code activated
Complimentary 2-year warranty
EChargz's DC Charger is suitable for industrial complexes which have EV fleets, or businesses with a small fleet of EV vehicles. It can provide 30kW to 60kW of charging output.
Features:
Suitable for: Commercial fleet businesses, Industrial buildings with EVs, public charging lots
TR25 and LNO Certified
Durable charging ports and cables for heavy-duty usage
The IDC30E EV charger is developed by Sungrow who has 25 years of expertise in electronics. The IDC30E EV charger is suitable for urban destinations.
Features:
Compatible with new cars and backends
IP65, dust and rain proof
Integration with PV and battery system
Service lifetime up to 10 years.
Level 3 Charging (DC Fast Charging)
DC fast chargers, known as Level 3 chargers, offer the fastest charging speeds, designed for on-the-go charging. They can replenish up to 80% charge in as little as 20-30 minutes, providing approximately 60-80 miles of range within that time frame. Level 3 chargers are positioned along major highways and high-traffic areas, allowing for a quick and full charge for efficient journeys within and beyond Singapore.
Top EV charging station models in Singapore for Level 3: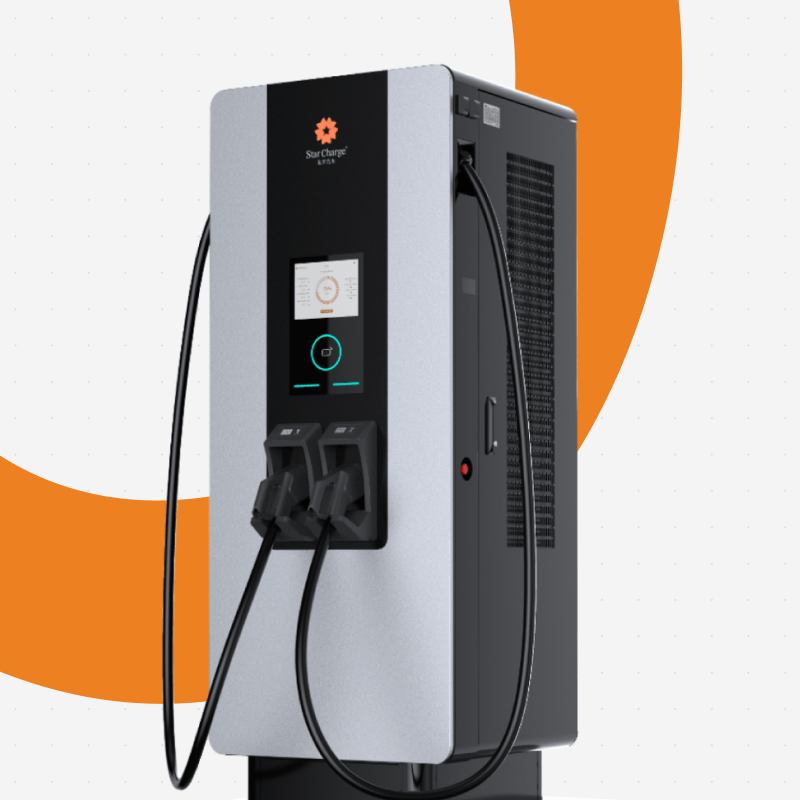 As a future-leading, high power charger, the Titan 120kW has enough versatility and flexibility to be used for any scenarios.
Features:
200-1000V DC super wide output voltage range
Flexible charging head configuration
Smart load management according to EV's demand
Connect any backend based on Open Charge Point Protocol (OCPP) 1.6J protocol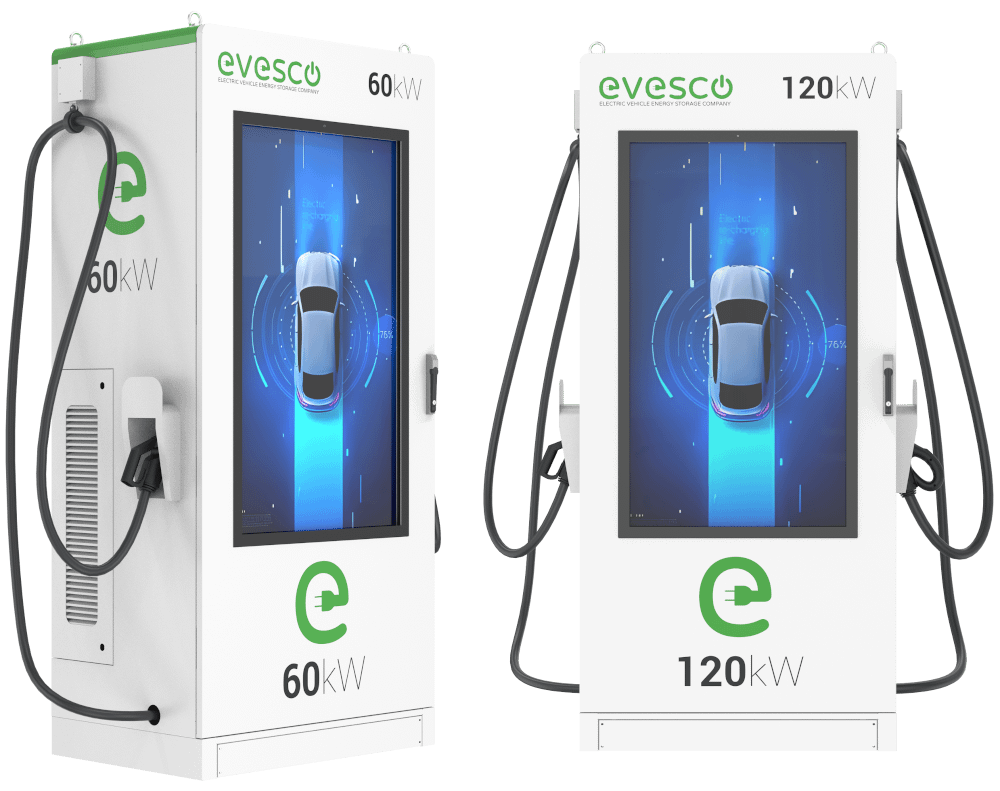 EVESCO's EVDC-S series of fast EV chargers have been designed to attract more visitors to businesses and engage them with customized content utilizing a large media screen. 
Features:
DC fast chargers with 55-inch media display and power output of 60kW and 120kW
Open Charge Point Protocol (OCPP) 1.6 and ISO 15118 (Plug&Charge) compliant
Ethernet, 4G and Wi-Fi connections available
Future-proof design with 1000V max output
EVOne's DC Hiconics charger addresses all operational needs with its powerful charging.
Features:
Ethernet, 4G, RFID Reader connections
Fast Charging that supports multiple charging outputs & charging cable types
Power output of 60kW, 120kW and 180kW
Let's examine scenarios where each charging level would excel in
Level 1 Charging: For residences with access to overnight charging, Level 1 charging fits the bill. This is particularly suited for individuals with predictable and moderate daily driving needs within the city.


Level 2 Charging: Workplace settings, shopping centres, and locations with extended parking times are ideal for Level 2 chargers. They cater to EV owners seeking convenient charging during their daily routines.


Level 3 Charging: Level 3 DC fast charging is a game-changer, topping up most vehicles in just minutes as opposed to hours with regular AC charging. It is the preferred choice when time efficiency and uninterrupted travel are paramount, making it ideal for on-the-go locations like gas stations.
Cracking the code of EV charging in Singapore involves understanding the distinctions between AC charging stations (Level 1 and Level 2) and DC fast charging stations (Level 3). By aligning your charging level selection with specific scenarios – whether it's daily commutes, workplace convenience, or super-fast charging for distance travel – you can seamlessly integrate electric mobility into your lifestyle. Singapore's diverse charging infrastructure ensures that embracing the EV revolution is smooth and confident, contributing to a cleaner, greener future for the Lion City.
Check out our latest Artemis series now!