Electric vehicles (EVs) are zooming into the mainstream, and we all want to know how to charge them faster. But, you guessed it, it's not just a matter of plugging in and watching the magic happen. In this post, Here at QuickCharge we are diving into the nitty-gritty of EV charging speed and sharing some savvy tips for speeding up your recharge.
Every EV comes with its own maximum charge rate, a limit that determines how much juice it can gulp down. Let's say your EV's max charge rate is 10kW, but you connect it to a 20kW charger. Guess what? It's still going to charge at 10kW because that's your vehicle's cap. The same rule applies in reverse. So, when shopping or looking for a charger, find one that matches your EV's rate for efficient filling.
2. The State of Charge (SoC) Shuffle
Stage of Charge (SoC) is the jargon for how full your battery is when you being charging.
Here's the deal: the lower the SoC, the faster the fill-up. Why? Well, an almost empty battery has room to gulp down energy pronto. But as it fills up, it becomes pickier, and the speed slows down. So, for a turbocharge, start charging when your EV has a lower SoC. But, of course, don't forget to charge to a level that fits your needs.
To maximise charging speed, you should charge when your EV has a lower SoC. However, you should still charge your EV to a level that suits your needs to prevent a scenario where you run out of battery on the road!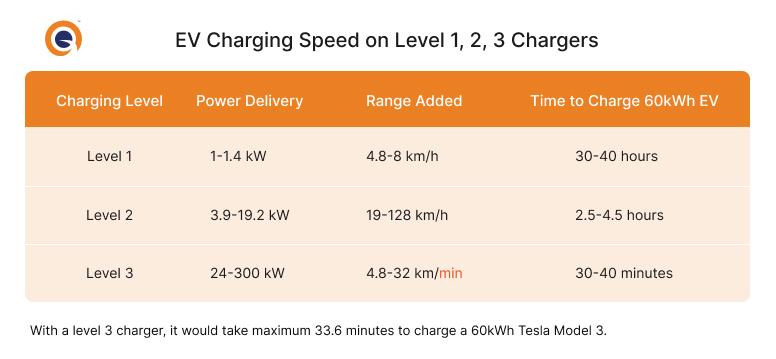 The type of charger used significantly impacts charging speed. There are three main types of chargers:
Level 1: The turtle of charging. Charging from a standard household outlet is the slowest option, typically adding around 3-8 km of range per hour.
Level 2: A step up in speed. These chargers are more powerful and can deliver 24-80 km of range per hour, depending on the charger's capacity and your EV's compatibility.
Level 3 (DC Fast Chargers): Speedsters of the EV charging world. The fastest option available to most EVs, DC fast chargers can add approximately 160 km of range in as little as 20-30 minutes.
Choosing the right charger for your EV is vital for efficient charging. However, finding the right charger can be challenging.

Fortunately, Quickcharge offers a wide range of chargers to reliably power up your vehicle. Explore our product center now to find a suitable charger for you.
Every EV battery will deteriorate overtime, which impairs its charging capacity. Maintaining your battery's health is vital for charging speed optimisation. To maintain your battery health and keep them in top form, avoid draining them to near empty. Long discharges that can hasten battery degeneration. Another thing to note, is when you are fast charging, instead of charging your battery to 100%, try to end the charge around 80% SoC to reduce stress on your battery.
Also, studies have shown that keeping the SoC at 80% allows the vehicle's regenerative braking to store the kinetic energy it captures within the remaining capacity of your batter (*information from charge.net.nz)
Extreme temperatures are a nemesis for charging speed and battery health. Most EVs have a Battery Management System (BMS) that's like the guardian angel of your battery. When it gets too hot or too cold, the BMS slows down the charging to protect the battery, making your charge time drag. The BMS will control the charging speed in extreme temperatures to protect the battery, leading to decreased charging speeds.
Fortunately, Singapore's climate (25°c – 31°c) falls in the ideal temperature range (15°c – 35°c) to maximise EV charging and battery health. Hence, you won't face an issue regarding the temperature of your battery. However, remember to park your EV in a shady area to keep the battery cool when charging.
Optimizing your EV's charging speed is a balancing act. It's about choosing the right charger, timing your charges strategically, and keeping an eye on your battery's health. With these insights, you'll always be in the fast lane, charging quickly and safely, ready to hit the road with confidence.